We are committed to your safety
15 YEARS EXPERIENCE
Our staff members have extensive knowledge of building techniques and are well-equipped to assist you with a range of safe working from heights solutions, including scaffolding, working platforms, edge protection and material hoists.
RELIABILITY
The BAY SCAFFOLD team is locally based and staffed, with our owner/director Wayne overseeing each job. Our equipment is OH&S compliant and fully serviced to ensure it remains of the highest standard.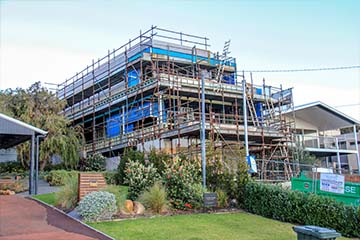 PEACE OF MIND
Safety is our priority. Our team is rigorously trained in safely and efficiently setting up scaffold to help you get your job done. All equipment is tested and maintained to a high standard.
Customer reviews
"Thank you for all your good work and efforts with the viewing tower."
Client – Finlayson St, Dunsborough
"Thanks Wayne for keeping the scaffold sorted as and when needed"
Steve Barrett – Down South Building Company
"We have engaged BAY SCAFFOLD on many building projects. Wayne and his team make the work flow smoothly and efficiently, and produce a safe working environment for all trades onsite."
Gerard Miller – Seachange Building
We understand the pressures of construction deadlines. Contact us for fast and efficient delivery.
Email us
Our Services
Commercial Scaffold
Our team is experienced in providing a wide range of commercial scaffolding projects, large or small. Our scaffold is industry-standard and suitable for new or existing construction sites.
Residential Scaffold
Highly experienced and specialising in architecturally designed houses, we make light work of difficult site parameters. Renovations, painting and insurance repairs jobs are easier with the right equipment in place.
Owner-Builder Scaffold
We enjoy working with owner builders and getting to know them as they embark on building their dream home. We provide expertise and solutions to facilitate the building process, keeping the job site safe and allowing a timely completion.
Mobile Scaffold
Our mobile scaffold is a cost-effective choice for jobs such as painting, cleaning or plastering. It is easy to move yet remarkably secure. Mobile scaffold is supplied by our dedicated scaffold company with high risk scaffold insurance.
Material Hoists
Reduce worker injury and improve site productivity with easy-to-operate material hoists capable of lifting up to 300kg. Our De Jong (Aus) hoists have an independent brake system and quality rack and pinion drive for added safety and reliability.
Viewing Platforms
We supply safe and sturdy platforms to help you discover potential views before you build, and help evaluate your property's future marketing potential.
Edge Protection
Essential for keeping you and your staff safe atop buildings, our edge protection solutions comply with Western Australian Government Occupational Safety and Health Code of Practice.
Temporary Fencing
Whether you need to secure a building or maintenance area, restrict access, barricade an area or reduce flow, our strong and durable temporary fencing has you covered.
BAY SCAFFOLD
The team at BAY SCAFFOLD is proud to live and work in the beautiful south west of WA, servicing Dunsborough, Yallingup, Eagle Bay, Busselton and surrounds. Since 2008, we have worked closely with local contractors, building companies, tradespeople and handymen, who have come to trust their business - and their lives - to our high-performance equipment and professional approach to our work. We use strong, secure and sturdy A-Frame, Kwikstage and tube scaffold which is made to Australian Standards and rigorously checked and tested regularly. Our team has extensive experience in the construction industry and has perfected supply and installation methods to cater to all needs at the highest level. Whether you need scaffold for a full residential or commercial build, a home renovation or repair, or to help you finish that long-awaited paint job with minimal fuss - we have the scaffold for you, ready to be delivered and installed when you need it.
Let us take care of your scaffold, hoist, or temporary fencing needs, so you can get on with the job safely and effectively.
Email us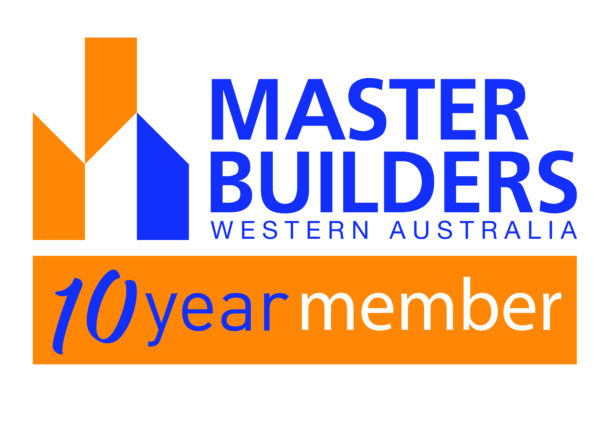 Building a better industry
Master Builders is a Western Australian Association of the top builders, contractors, suppliers and consultants. We have been a member for over 10 years and receive regular updates on industry standards, OH&S and more. This is just part of our commitment to our clients to lead the way and remain up-to-date in our industry. For more information, click the button below.
Visit the Master Builders website